This weekend is Open House weekend at your FLGS.
I'll repeat myself from previous posts. I have had new people to the blog, and they may not know about these events.
Stealing the WotC image from their LGS pages, you can see that these Open House events are aimed at new players. They also hope to hook players back into the game.

So you want to learn to play MtG, or are a returning player and want to get back into the game. Turn up to your FLGS this weekend, get a free Welcome deck, and either the store owner or one of the MtG regulars will teach you to play the game.
After a few games of MtG you keep the free deck, and also get the following promo card.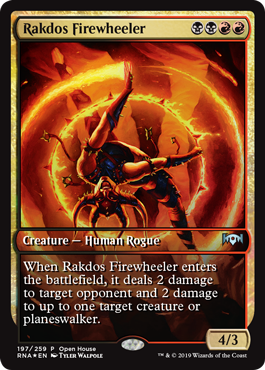 This promo card will guarantee that there will be plenty of MtG regulars there to teach you how to play and play against.
I'm not sure if the Welcome decks will have any Ravnica cards in them. They won't have any "value" cards in them, after all they are free. But they are a great way to try the game for free.
I'll be at my FLGS The Hobbit Hole's Open House event this Saturday. There might even be a Commander game to join in if I'm lucky. If you are in the area then pop in and catch a game with me.
Just for those that might be interested this is the upcoming schedule for MtG over the next few weeks as Ravnica Allegiance comes out.



If you did make it to the Open House, and had a good time. Then the following weekends Prerelease weekend is a fun event to attend. But I'll talk more about that at the start of next week.