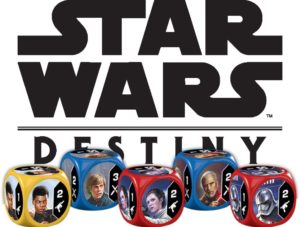 I have to admit I almost feel that my Star Wars: Destiny deck posts are like link bait. I do post them on a couple  of Star Wars: Destiny fan pages on Facebook to get feedback. And gradually they have been getting more interest. Yesterday for this small niche blog was crazy. But those types of post are there to help me (provide a record of what I am working on, and get feedback) and to share with the community.
But I've been getting some great feedback/suggestions on how to improve the mill deck. There has been no nasty comments. And I think that is indicative of my experience on those pages. The Star Wars: Destiny community does seem to be very supportive, and helpful.
I'm going to warn you this is a long post.
So from the two groups I present the feedback I got for my Padme/eJyn Mono Mill Deck 2.5. I hope folks find me bringing all this feedback into one place helpful. This post is also acting like notes for me also. So I will be referring to this post a lot when I build the 3.0 version of this deck.
Joe Lewis on the Star Wars: Destiny page said
"Way different than my list
I cut Asscension Gun very early for Hyperspace Jump. You need your Battlefield so having a card that allows you to have that when you don't get it and to be able to get out of sticky situations is incredibly important.
I cut Cunning for Maz's Goggles which is just a better card for what you are trying to do.
Having all of the random die removal is strange to me. We have Negotiate and Electroshock"
Joe then posted this photo of his deck for me.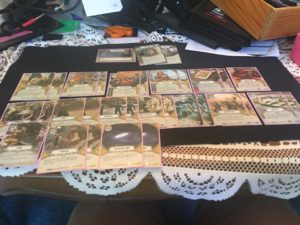 A discussion mainly between Sam A. Cimino and Joe about the merits of certain cards broke out. I have to admit I learnt a lot from this discussion.
Sam: "Dodge, block, evade, bolt hole, and take cover are all bad cards. Electroshock, Negotiate, Cat and Mouse, are all better options."
Joe: " I cut Loth because it was free."
Joe: "(see: Jyn Erso)"
Sam: " that only works on the first event played. It's still better than all those other cards"
Joe: "The curve of the deck in general messes with Jyn's ability. Most die removal is in reaction to something. To waste the first event (which is usually die removal for Mono-Yellow) for something like Negotiate is just stronger than playing Loth Cat"
David Washburn: "Loth is indispensable, dude"
Joe: "We'll use his deck as an example:
The average cost of an event for him that is yellow is 0.6, making the inclusion of Jyn in the deck virtually pointless.
Adding Loth Cat and Mouse would not help that ratio. That is why a card like Negotiate and Electroshock are stronger. They serve the same function as Loth Cat and give you more.
In other decks with Yellow it's great. However, because of Jyn you have to really be careful with what events you play so that you are getting the most value out of her as a character. Running Zero cost Yellow cards really does not do much for her. Her strength comes in fixing the cost curve of your deck.
Dice removal is generally reactionary. You seldom wait more than 2 actions to deal with a die you want to remove. Usually the threat is very clear across matchups after the problem character rolls in.
Loth Cat and Negotiate need a roll in to be live. Jynn makes a reactionary card free, which makes Loth Cat not a valuable "must include" for her."
Sam: "By that logic friends is free too and isn't a must include, since that's often one of the first things you want to do to get the most value out of it."
Joe: "Friends fulfills a different purpose than Loth Cat though. They are both free but Friends does not have any activation requirement*. The value that you can gain from Friends in Low Places may outweight the value of it lowering your ceiling.
Cards that take away from your opponent are never as good as cards that give you things, but since Friends in Low Places is taking the role of proactive lowering of your opponents ceiling, it's usually worth it to lower your potential ceiling to take an option away from your opponent.
*The deck has two yellow characters and will always fulfill its requirement."
Eric Murphy: "I can justify a single copy of dodge and block, i've actually seen them used very effectively. but no more than one of each in a deck ever."
From the Star Wars: Destiny UK/IRL Facebook Group Andrew Eyles wrote
"I am trialing a Padme and Jyn deck and have come to the same decision that the EJyn is the way to go. An early Con artist or Cunning onto Padme makes them almost equal targets. My opposition then has to make a choice of which one is the most dangerous. As soon they make that call I try to get enough resources to get second chance and ammo belt hopefully next round."
I did then ask how our two decks differed and Andrew replied with
" I do not play Bolt hole, block, take cover or dodge. I play "fair trade", Don't get cocky, long con and Sabotage.
For me block and dodge are too expensive. My resources are for second chance and maybe 2 other upgrades i can get out. Sabotage is in for the annoying supports like planetary uprising but more for freely discarding imperial inspection, salvage stand and dark presence.
I do not play hunker down or Ascension gun. I have lone Operative and fast hands. In the current meta speed is everything. Having to tap a card for one shield (which a lot of the time makes no difference, i am looking at you vibroknife) is just too slow. Fast hands early gives me that scary ability to get 2 cards out your hand before you even have a go.
The whole deck obviously needs the second chance/ammo belt combo early where yours may have a little more survivability without it.
It is nuts when it all comes together – cheating and rebelling the ammo belts back out and discarding whole reams of cards from the deck and hand. It is fun to play – maybe not quite tier 1 but getting close."
There was even a comment left on the post yesterday from a Ben:
"I think you need to use Jyns ability more, cards like Negotiate and electroshock Would help more than block and take cover. Also Disarm is great, it gets rid of alot of upgrades that hurt like vibro knife. finally, trade in hunker downs for maz goggles. for 1 cost, it has two focuse sides and a "Discard" side."
There is some great food for thought there, and I will be trying out some of those suggestions (mainly the ones that don't require dice – I can print out the cards I don't have as a stop gap). Those that require dice I will have to try and target buy (after my booster box of Awakenings arrives, just in case I get them). I will then target buy the cards that I feel work best after play testing them.
I was playing this deck for the first time yesterday against a ePoe/eMaz deck yesterday. Dale got three Awakenings booster boxes yesterday that gave him enough cards (like Poe!) to build an initial deck. I got creamed in our first game. Very little went my way in that game. Dice rolls, card draw, all conspired to make me eat humble pie.
The second game I won, and removing his battlefield (Starship Graveyard) and going with mine was a good start towards that victory.
I know Dale is missing some cards from a "full" ePoe/eMaz deck. He already has a couple of tweaks to the one I played against.
But that's the interesting thing about our local meta, it's Dale and myself with our limited card pool. Although Dale's card pool (2.5 SOR boxes, 3 Awakenings boxes, plus 25 SOR boosters) is larger than mine (.5 SOR box, 20 SOR boosters and some targeted purchases). However if you look at our stats I have our longest win streak of 6 games. Out of 75 games I have the edge with 49 wins to 36. So I'm very happy with that. I'll have to write a post about the decks Dale has been playing with sometime.