Wow where did May go? The day this post goes live sees me travelling to Birmingham for the UKGE, after having seen Wonder Woman. A great way to start off the month of June and end half term.
I know after last months amazing record breaking figures it was going to be hard to top that or get close. But still it does seem to be a bit of a drop. Looking at the games played there have been some "epic" games hitting the table in May. For example Star Wars Rebellion was just over 5 hours of game time, and although we were nearly finished, we didn't finish. Then there was 3 hours or more on Eldritch Horror. So bigger, more meatier games in May. Plus one or two organised meet ups fell through due to life, the universe and everything.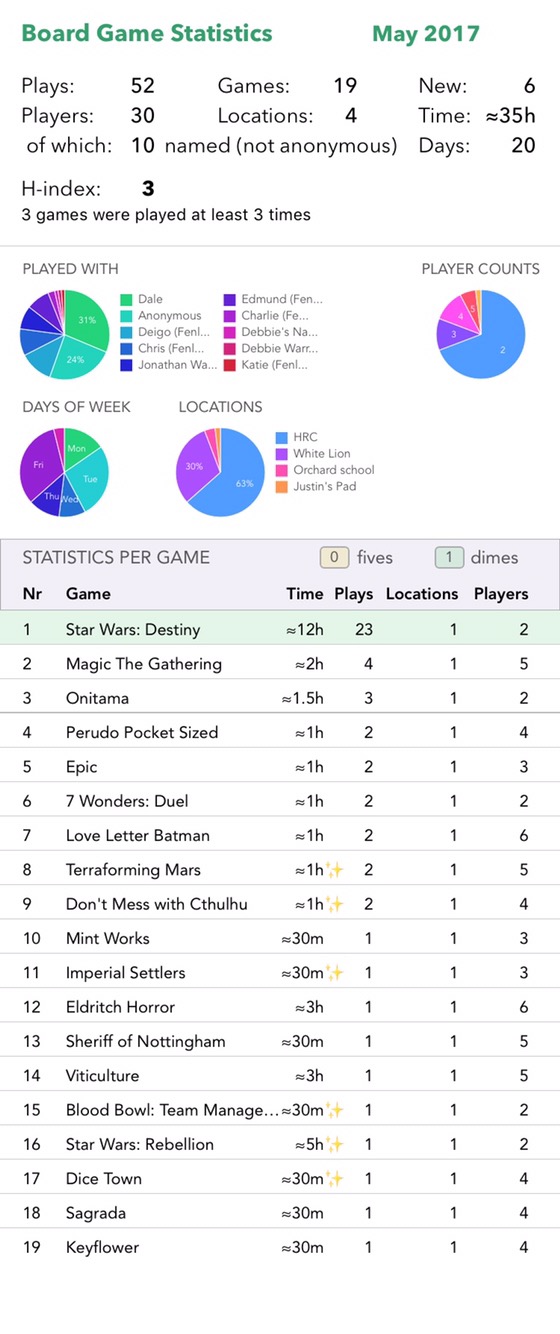 As the "stats" show I played more than the average this month. But was under for the played games.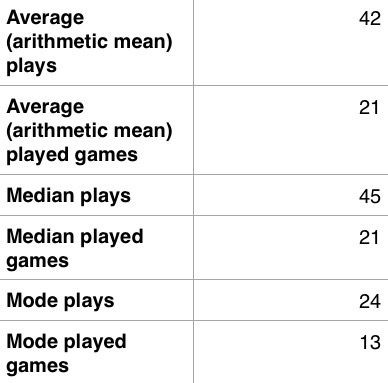 The final section as usual presents the data graphically so we can try and see trends.
At the moment it looks like my overall trend for 2017 is I'm playing more than 2016.
My Game of the Month…
Not many new games (to me) hit the table in May. I think that the contenders for this highly regarded accolade have to be Star Wars Rebellion and Terraforming Mars.
A tough choice indeed. If my Verses posts and the pairwise comparisons I have been doing have taught me one thing it's how to make tough choices. Plus how to avoid those tough choices.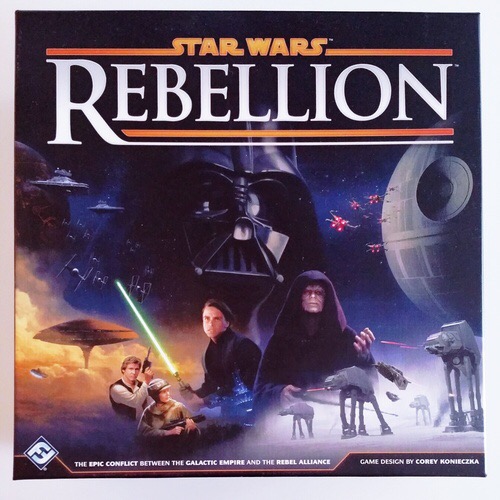 I liked Terraforming Mars. But the share epic nature of this game that manages to capture the original trilogy is just mind blowing. FFG knocked it out of the park production wise. This is an awesome game. It deserves to hold the title of my game of the month for May by itself.
Worst Game of the Month…
Game publishers around the globe will be breathing a big sigh of relief because there are no new inductees into the Nantucket Wing of Shame (still located at Jonathan's house, despite him actually off loading said dire excuse of a game to some poor unsuspecting sap).
Hopefully hitting the table in June…
Wow I can tick two off this list for May. Star Wars Rebellion and Star Wars: Destiny both got to the table. For June I'm just going to leave it to these two remaining games on the May list.
Broom Service – I think a special learning session needs setting up for this.
Mech vs Minions – need to arrange a big session for this I think.
Fenland Gamer Events for June (so far)…
The Fenland Gamers celebrates its second birthday this month.
After Junes monthly meetup it will be moving to a temporary location until a new home has been found for it.
Saturday those at UKGE are meeting up.
The weekly Friday Evening Gaming at The White Lion (or FEG@WL as I call it)
10th – our first AGM!
14th – The monthly meetup (it's the second Wednesday of each month).
17th – T.I.M.E. Stories session (all places taken at the moment)
If you are in the area and want to attend one of the events, please visit the Fenland Gamers Facebook page for further details about the event. Hope to see you there.