Happy New Year!!!!
Wow so that's a year gone. We are a day into 2017 so probably the best time to look back at the previous year.
Luckily this post is the last one looking back. I've already bored you with my game of 2016, worst and under the radar games of 2016.
It's been a year since I started logging my game plays using the BG Stats app on my iPhone. Which then inspired the By The Numbers (BTN) posts here on the blog at the end of each month that have bored you into a coma.
So here is the summary of my year of gaming. Naturally the list of games is pretty long. So I've included this at the end as a thumbnail you can click on to view the full list if you are remotely interested.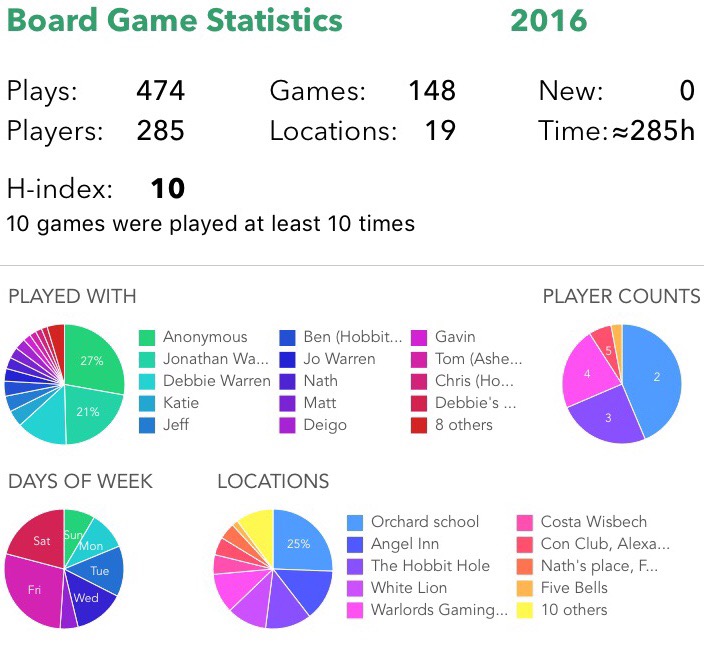 I have to say I'm amazed at these numbers. Not as high as some I've seen being put up on one or two of the Facebook gaming groups.
The time figure is very very inaccurate because I don't normally record the duration it took to play a game.
So here is the graphic that shows my overall trend for the year.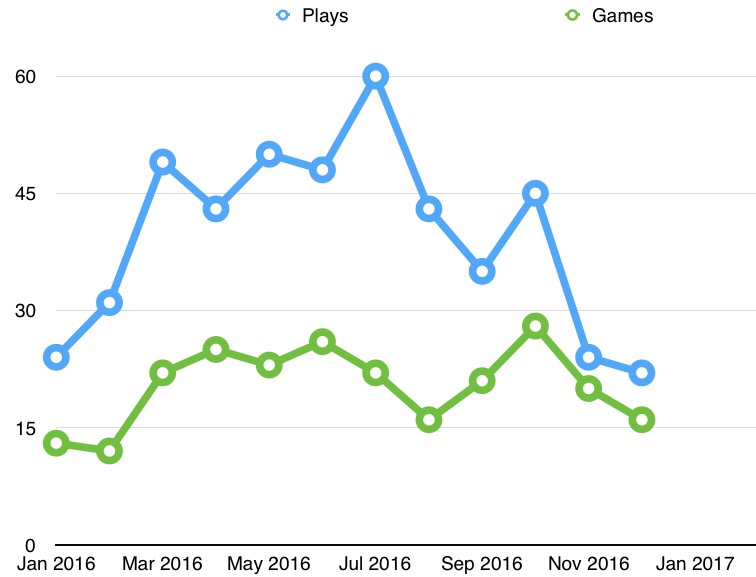 December was a big drop off because we stopped the FEG@WL sessions for the month. December is a busy time for our hosts The White Lion with Christmas parties for various employee groups looking to celebrate a year of playing office Game of Thrones. So we didn't want to give our fantastic hosts a headache and get in their way. But we will be back to normal from this week.
Game of the Month…
For those that missed it (it was sneaked in on my GOTY post) my game for December was Pandemic Iberia.
One new feature of the BG Stats app in the last update was to be able to set challenges and track them.
It's a very popular thing to do amongst gamers apparently. Especially ones like 10×10, which is to play ten games ten times each within a year.
Do these count as new year resolutions for gamers?
So I thought I'd come up with my own for 2017.
I have been getting meatier games to the table recently. Which I really really enjoy. But I still have some sitting in my 'pile of shame'. So my main aim in this challenge for 2017 is to get some of those to the table. Naturally as any new meaty games get added to my collection they will get added to this challenge. In fact I don't have Xia yet, but that will be with me in March when the Kickstarter for the expansion gets sent out.
So here is 'My Big Game Challenge' for 2017.

Here is the thumbnail I mentioned earlier in the post. How many of these have you played?

So that was 2016. I had a great year gaming with friends and family, meeting new people, and some great experiences.
2017 has a high bar to beat.