It's that time of month when monies bounces into the bank account and then instantly bounces back out again. A lot of the time it bounces out to pay bills. But sometimes it results in goodies arriving.
One game that has been sitting on my list of games to get (and there are a few games on this list) has been Run, Fight, Die a zombie game, and I do like zombie themed games.
About a month ago Freddy bagged a bargain getting this game with I think all of the expansions for around $100 I think it may have been a tad more but my failing memory forgets the exact amount paid. He got an amazing bargain.
Well as I said at the start of the post its that time of month that for a brief flicker of time I have cash available. So while I was watching a Netrunner hgame on YouTube a random thought hit me, I wonder how much Amazon is selling the game for.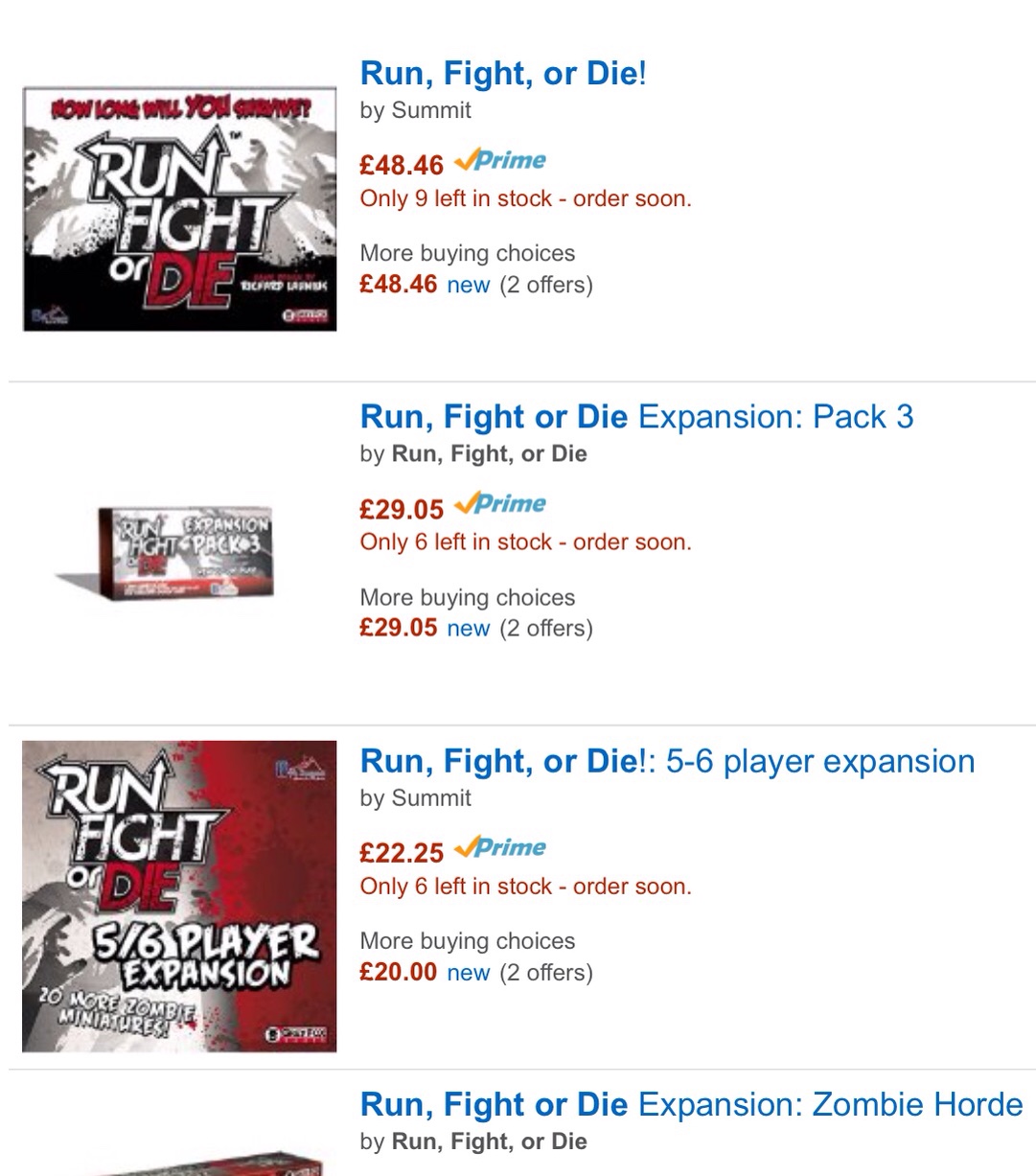 So a quick visit to Amazon got me the above prices. So just under fifty pounds for the base game, but I really would like that five and six player expansion. Aaaand it would be nice to have that Expansion 3 that adds co-op play to the game. Some quick advanced maths using a super computer and an abacus, then having Loki check my sums I came up with a figure of roughly one hundred pounds in real money.
That was a bit more than I was wanting or able to afford at the moment. Maybe I should put off purchasing the game, or just buy the base game this month. Decisions, decisions.
Then I asked myself I wonder if I can get the game cheaper elsewhere? I'll do this as an academic exercise I thought. I estimated maybe I might be able to save potentially ten pounds.
So with my ninja Google skills I went looking for UK based games retailers selling Run, Fight, Die. My journey led me to the web pages of Games Lore. Wow I wasn't prepared for their prices.

For the princely sum of fifty six pounds (which includes p&p and a 2.5% Discount for spending over fifty pound) I was able to get the game plus the two expansions I wanted for just over half the price of buying them on Amazon.
Wow that was an amazingly good deal. Somewhere inside my head any nagging doubts about getting the game were silently smothered with a pillow. Before I knew it an order confirmation email was sitting in my inbox.
I do like Amazon especially with next day delivery (part of my Prime membership). However they are not always the cheapest, as this post has shown. It does pay to shop around.